Aloha Everyone!
Geesh, summer sure did fly by! Needless-to-say, summer has come and gone, which means Kims three boys will be returning to school in a few days and football season for two of them has started. Bryce, Kim's oldest is returning to Chatsworth High School as a junior and is playing on the Varsity football team! We are looking forward to his games!! Zack, is starting as a freshman joining his big brother at Chatsworth High School, that's going to be pretty exciting, we know that Bryce will watch out for his little brother and Zack will do well in his studies as always! Noah, will be returning as a 5th grader (his last year in elementary school) to Hesby Oaks. He is also playing football for the Chatsworth Chiefs, which will consume most of our Saturdays until November. So, as you can see, Kim has her hands full for a while...do not FRET, somehow, someway, the Sassy Sisters are still on the lookout for Craft Fairs - especially this time of the year with Christmas just a few months away!
As for me, I left my job after 20 pretty cool years (10 of which I traveled A LOT!)...and took a whole year off to...figure out what I want to be when I grow up?!! After a years journey, I'm returning to college. YEP! I'm ready! I'm taking a full load and will be working towards transfering to a California State University (maybe in a year) for a Bachelors in Business. The really cool thing, is, my Indian Reservation (Pima - Salt River from Scotsdale, AZ) is paying for my education as well as, part of my living expenses!! Wooohooo - free $$!! Its a win-win situation! How could I pass this opportunity up! I will still be dedicating my free time to my commitment to Sassy Sisters...
Here's a few pictures from our last event at the Hueneme Days. My husband, Mitch was able to pull some strings so we could have our booths next to each other. It was so convenient cause he and his partner Greg helped us with the infamous EZ Up TENT...i'm telling you, there's nothing EZ about those things! HA!HA!HA! Mitch is on the left behind the guy with the hat.
Kim had some football commitments, so my parents helped out both days until she could make it up there.
Here's dad behind the scenes...
Kim and mom enjoying the day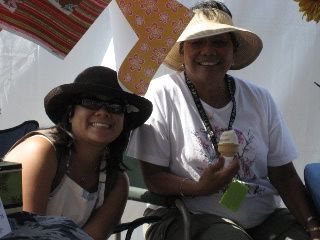 Oh yah...sneak peak!! I love this!! After making things for everyone else, I decided to finally sit down and make myself a set of monogram cards...
CUTE YAH??!!
We hope you enjoy the long weekend!!